Suzhou WEIER(Jiangsu)
Suzhou, Jiangsu Province
Suzhou is located in the center of the Yangtze Delta, in the south of Jiangsu Province, with Shanghai to the east, Zhejiang Province to the south, Wuxi City to the west and the Yangtze River to the north. Since 42% area of the city is covered by water, including a vast number of ponds and streams, Suzhou is praised as the 'Oriental Venice'. Taihu Lake, four fifths of which is in the territory of Suzhou, is one of the four largest fresh lakes in China, with East Hill, West Hill and other scenic spots in its vicinity. The city is cut by the Beijing-Hangzhou Grand Canal from north to south. Together with its mild climate, making it an available destination all year round, fertile landscape and abundance of produce, it is no wonder that Suzhou is called 'paradise on earth'.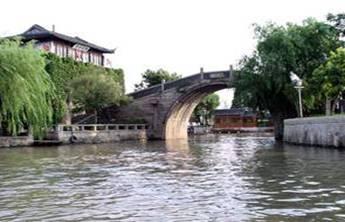 Brief Introduction of WEIER
WEIER CORP.USA was established in 1987 in Los Angeles. As one of China's Leading integrated education company, we specializes in International cooperation and communication projects. It offers a good opportunity for Chinese students studying abroad. Our well trained professional team has offered hundreds of ESL jobs with dozens of schools to teachers from all around the world, as well as American winter/summer camp and US College Placement to thousands of international students.
In 2012, China headquarter, Suzhou Weier Investment Management Limited Company is set up. Considering many different goals and background, we have a range of curriculum and programs, from preschool, examination preparation (such as TOEFL, SAT) to English for Professionals.
Due to our rich experience and persistent efforts, we have had the support and recognition of the local Education Bureau, public schools and other educational institutions, and developed to be a comprehensive education company focusing on language training, elementary education, and at the same time it also offers U.S. College Placement.


Remarks: Apartment for your reference

Vacancies from Schools

1 Vacancy for

Suzhou Industrial Park Weiting School (G7-G8) http://www.yqwt9xx.com/

Suzhou Industrial Park Weiting Experimental (G6) http://www.wtsx.cn/

Primary School

1 Vacancy for

Suzhou Industrial Park Weiting School (G3-G6) http://www.yqwt9xx.com/

1 Vacancy for

Suzhou Industrial Park Xietang School (G3-G6) http://www.yqxtxx.com/

1 Vacancy for
Suzhou Industrial Park Xingwan School (G7-G8) http://www.sipxw.cn/

1 Vacancy for

Suzhou Industrial Park Xingwan School (G3-G4) http://www.sipxw.cn/

1 Vacancy

Suzhou Industrial Park Xingwan School (G5-G6) http://www.sipxw.cn/

Suzhou Industrial Park Jingcheng School (G3-G4) http://www.sipjcs.com/

Suzhou Industrial Park Dongsha Lake School (G3-G5) http://www.sipdsh.com/

1 Vacancy for

Suzhou Industrial Park No.1 Middle School (G7-G8) http://www.szyqyz.com/

1 Vacancy for

Suzhou Industrial Park Loufeng School (G3-G6) http://www.szlfxx.com/

1 Vacancy for

Suzhou Industrial Park Loufeng School (G3-G6) http://www.szlfxx.com/

Suzhou Industrial Park Weiting Experimental (G3-G5) http://www.wtsx.cn/

Primary School

1 Vacancy for

Suzhou Industrial Park Jinji Lake School (G3-G6) http://www.jjhxx.com/

Suzhou Industrial Park Hanlin Primary School (G3-G6) http://www.siphlps.cn/

1 Vacancy for

Suzhou Industrial Park No.10 Middle School (G7-G8) http://www.sip10ms.com/

1 Vacancy for

Suzhou Industrial Park Kuatang Experimental (G3-G6) http://www.ktxx.net/

Primary School




Provost, Math/ History /English teachers needed


1. Provost(the dean of studies/Director of Teaching Affairs/Academic Dean)
QUALIFICATIONS:
- Native English speakers from America, Canada

- Holding a Bachelor degree or above with ESL certificate
- Five years teaching experience preferred
- American high school teaching experience or teaching experience in TOEFL/SAT test/ AP is preferred
- Major in Education, English, Applied Linguistics, or relevant area
- Be familiar with the MS Office Software
- Give priority to those with provost experience
JOB DESCRIPTION:
- To use the American School textbook and some media and playing materials to teach at least one course in high school.
- To take charge of teaching-quality monitoring, and communicate with Provost in American high school about teaching issues;
- To review students' transcripts, and communicate with American provost for external audit of students' transcripts;
- To make overall arrangement of school's daily teaching issues;
- To give report to Item Manager on students and school;
- To develop module curriculum, including materials;
- To participate in school meetings as required;
- To provide support to students' College Application;
- Other things assigned by Item Manager.


2. History Teacher (Including American History, Western and Eastern Culture)
QUALIFICATIONS:
- Native English speakers from America, Canada

- Holding a Bachelor degree or above with ESL certificate
- Two years teaching experience preferred
- American high school teaching experience or teaching experience in TOEFL/SAT test/ AP is preferred
- Major in Education, History, Applied Linguistics, or relevant area
- Be familiar with the MS Office Software
- Give priority to those with high school experience
JOB DESCRIPTION:
- To use the American School textbook and some media and playing materials to teach American History, Western and Eastern Cultural;
- To provide systematic and constructive feedback on students' coursework;
- To assist in the development of module curriculum, including materials;
- To participate in school meetings as required;
- To provide support to students' College Application;
- To participate in in-service teacher development sessions;
- To carry out administrative tasks such as recording attendance, administering evaluation questionnaires;
- To administer examinations in line with American High School policy and procedures;
- Other things assigned by provost.


3. English Teacher (Including TOEFL and SAT Preparation)
QUALIFICATIONS:
- Native English speakers from America, Canada

- Holding a Bachelor degree or above with ESL certificate
- Two years teaching experience preferred
- American high school teaching experience or teaching experience in TOEFL/SAT test/ AP is preferred
- Employment Type: Full Time
- Major in Education, English, Applied Linguistics, or relevant area
- Be familiar with the MS Office Software
- Give priority to those with high school experience
JOB DESCRIPTION:
- To use the American School textbook and some media and playing materials to teach American History, Western and Eastern Cultural;
- To provide systematic and constructive feedback on students' coursework;
- To assist in the development of module curriculum, including materials;
- To participate in school meetings as required;
- To provide support to students' College Application;
- To participate in in-service teacher development sessions;
- To carry out administrative tasks such as recording attendance, administering evaluation questionnaires;
- To administer examinations in line with American High School policy and procedures;
- Other things assigned by provost.


4. Maths and Science (Physics, Biology, and Chemistry) Teacher
QUALIFICATIONS:
- Native English speakers from America, Canada

- Holding a Bachelor degree or above with ESL certificate
- Two years teaching experience preferred
- American high school teaching experience or teaching experience in TOEFL/SAT test/ AP is preferred
- Major in Science or relevant area
- Be familiar with the MS Office Software
- Give priority to those with high school experience
JOB DESCRIPTION:
- To use the American School textbook and some media and playing materials to teach Maths and Science (Physics, Biology, and Chemistry)
- To provide systematic and constructive feedback on students' coursework;
- To assist in the development of module curriculum, including materials;
- To participate in school meetings as required;
- To provide support to students' College Application;
- To participate in in-service teacher development sessions;
- To carry out administrative tasks such as recording attendance, administering evaluation questionnaires;
- To administer examinations in line with American High School policy and procedures;
- Other things assigned by provost.

Contract Period: 1 Mar 2017 -31 Jan 2018


Requirements: BA ,TEFL or TESOL and two years teaching experience preferred

Monthly Salary: 8,000RMB (6,500 RMB + 1,500 RMB as an extra bonus)
High School Subject Teacher: 13,000-18,000RMB
Teaching hours: 18-22 classes per week

Age of students: primary and junior high school students

Accommodation: free shared apartment or 1500RMB housing

Paid Holiday: New Year's Day ;Tomb sweeping Festival ;Labour Day ;Dragon Boat Festival; National Holiday (3days); Mid-Autumn Festival; Spring Festival. In addition the following paid annual leave will be provided: 10days paid leave during the normal winter vacation in addition to the official holidays and this shall be around 2weeks in total.

Work visa documents: The school will provide work permit and invitation letter for China at no cost to the teacher.

'Z' work visa allowance: Foreign Teachers would be given 3000RMB as 'Z' work-visa Allowance


Air-ticket Reimbursement: On completion of a school year contract, the school will reimburse teacher travel allowance 6000RMB.On completion of an one semester contract, the school will reimburse teacher travel allowance 3000RMB.

Closest Airport: Shanghai Airport