Study Madarin in Hong Kong
China Connection Education Service also has training centres and overseas study service centres in Hong Kong, Guangzhou, Huizhou and Zhuhai,providing a variety of education, management and language training courses as well as overseas study advisory services to the students.

Chase Dragon Language Centre (Hong Kong), founded in 1999, is well established language centre with classes held at CNT Tower in Wanchai or at client's offices/homes. We help people both professionally and personally in Chinese Mandarin and Cantonese, to communicate more effectively, further their careers, travel abroad and develop relationships.


We specialize in Chinese Mandarin (Putonghua), Cantonese learning in conversation, Mandarin reading and writing for expatriates and Local.
Our experienced tutors are native speakers who hold recognized related language-teaching qualifications. Each professional has a different background that enables us to offer you a range of specialties

We offer
-Native-speaker, qualified, enthusiastic teachers
-Individual attention in a one-to-one or small classes
-Confidence-building and motivation
-Time-effective learning with relevant materials
-A fun, relaxed atmosphere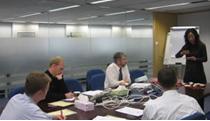 Our Courses

Please feel free to contact us for more details!

► Survival Business Mandarin Course

Hong Kong office

► Mandarin Lessons for Job Interviews

► Chinese Culture Course

► Chinese Business Etiquette

► Travel Mandarin Course

Unit D,10/F., CNT Tower, Hennessy Road 338, Wanchai, Hong Kong
Tel: +852 2524 8248 Fax: +852 2523 0926
Email:chinaconnection2009@gmail.com

► Regular Mandarin Course

► Business Mandarin Course

►Customized Mandarin Course

Office hours:

Monday to Friday: 10:00am to 6:30pm
Saturday: 10:00am to 2:00pm