Yichang Tianwen International School
Yichang city, Hubei province lying on the northern bank of the Yangtze River, is famed as the largest hydroelectric base in China. Both the Three Gorges Dam, the largest hydroelectric power station in the world, and the Gezhouba Dam are located in the city.

Located in the southwestern part of Hubei, Yichang borders Jingzhou and Jingmen to the east, Hunan Province to the south, Enshi to the west, Shennongjia Forest Zone and Xiangfan to the north. The Wuhan-Yichang Highway, the Shanghai-Chengdu Highway, the Wuhan-Yichang Railway and the Shanghai-Wuhan Railway run through Yichang, connecting the city with other major domestic cities. Yichang Sanxia International Airport, 26 km from the city's downtown area, operates air routes to Beijing, Guangzhou, Chengdu and other domestic cities.
The city has a population of 4 million and covers an area of 21,084 sq km. It has a sub-tropical monsoon climate with four distinct seasons. The average temperature in Yichang is about 15℃. It is rich in phosphorite resources. Its phosphorite reserves exceed 1.1 billion tons, accounting for over one half of Hubei's total.
Cultural Highlights
Yichang's history stretches back 2,700 years. In ancient times, Xiling tribes lived in Yichang. In BC278, Yiling Shire was set up in the region. It was named Yichang in AD1735 during the Qing Dynasty. In 1876, Yichang became a foreign trade port. The city enjoys diverse cultures, such as Tujia Culture, Ba Culture and Chu Culture. The traditional festivals, costumes and cuisine of the Tujia ethnic minority group are well-preserved in Yichang.
Tourist Attraction
There are abundant natural reserves and various historical sites in Yichang. The Three Gorges area of the Yangtze River is the most popular tourist attraction in the city. It starts from Baidi Town of Chongqing and ends at Nanjin Pass of Yichang. The three gorges are Qutang Gorge, Wu Gorge and Xiling Gorge. The Three Gorges Dam is situated on the Xiling Gorge, the longest of the three gorges. Travelers can sail along the Yangtze River and enjoy magnificent scenery along the both banks of the river. Travelers should also visit Yuquan Temple, Qingjiang Small Three Gorges, the Ancient Battlefield of the Three Kingdoms Period and the Baren Ruins.
Preserved meat of Tujia (a kind of salty meat), Radish Dumplings, Fried Potatoes and Spicy Shrimp are the most featured local dishes in Yichang.

Introduction of Yichang Tianwen School
Yichang Tianwen School, lies in Ziyang Villiage, Yichang, Hubei Province, was founded in Sep 2004 with 350 students and 30 teachers. Under a successful administraion, now the school has developed into four separate departments which are primary school , middle school, high school and international school with 2400 students and 350 teachers in total. The school's own educational features like students' capability of self-study and self-development are superior to many public and private schools in hubei province.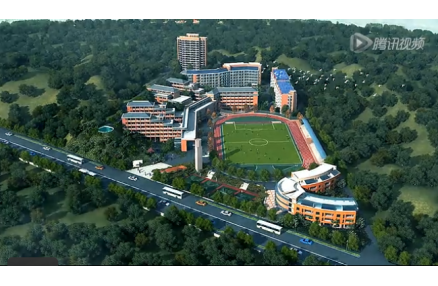 The school was awarded as The First-class Private school of Yichang, The Advanced Private school of Yichang, The advanced Private school of Hubei province, "5 star" private school of hubei province, which was among the first 20 high level private school, one of the 60 brands that has great influence on the development of Yichang.
1. International School
The school offers NASAP course with teachers appointed by the Revelution Company which is famous for its SAT teaching in America. Besides this the school invited great consultants like Dr Kang Changyun, China Education Center of education and social work in Sydney University, Education master of Sydney University and headmaster of Xian Bodi School. Ex-proffessor Zhou Shizhong of North-west University. We hold this faith that students' full-side development is the focus. We pay great attention to studets' happy learning process. We will cultivate our students excellent traditional culture quality and international view, which will make them international tallents who can adapt to the path of world's future development.
2. High School
The school believes to further students' harmonious development with elaborate educational service. They carry out the theory of "to appreciate students, respect parents and revere class" and "every teacher is responsible for educate each students in every side all the way". Their students should love their homeland and care of others. They have the idea that to go for their dreams, for the truth and science. They will build up various ways for them to go further study. The school now has 13 classes, 550 students and 49 teachers, 18 of whom are senior teachers and 39 are middle. In Sep 2010 the school became a partner of Yichang NO. 1 Middle School and do fully cooperations taking advantages of the school's good resources. In 2011 the school got 3rd prize of high school teaching in Yichang and prize for Oral English Development in Yichang.
3. Middle School
Yichang Tianwen Middle School offers considerate board and lodging service with balanced dinning for stuidents and air-conditioner for each apartment. It's a beautiful place which is very suitable to study in. The school insists to follow the way of high quality development and strategy of elaborate service and characteristic education. The school has formed it's own features like High school even read, habit and abilitiy of Self-learning and Self-management, Teachers Learning and Development Community.
The school owns 68 teachers, 34 of whom are core teachers. 8 years since its founding, its fame becomes more and more accepted by people. The school is on a progressional way of making the school a distinguised one and persuing the worth of educating Tianwen students to be Self-esteen, Self-displine, Self-directed and Self-improvment. The school has been the top three in Yichang Zhongkao during the past 5 years. Students in the school has awarded 1000 prizes.
4.Primary School
Yichang Tianwen Primary School, lies in Xiba, where Gezhou Dam stands, along the Yangtze River, is both a boarding and day school. It's a quiet place for study.
The school pays great concerns on teachers development and for which it is the base of Teachers' Learning and Development Community(LDC) in middle China. The school has good cooperation with many famous education universities and primary schools domestic and aboard. The school practices small class within 36 students for better teaching quality and is equiped with H-tec electronic whiteboard teaching system, which is the only one school who provides this facility for all classes.
The school is attampt to make:
A school that all kids are the center;
A school that keeps kids' secrets;
A school that is full of kids' features.

English Teachers Number required: 2 Posts
Requirements: BA+TEFL and two years teaching experience preferred
Monthly Salary: 6000-8000
Teacher Requirements:
Contract Period: 1st Sep, 2017 - 15th Jul, 2018
To teach English Language for all level students:
Bachelor degree +TEFL and teaching experience (IELTS teaching experience preferred)
To teach SAT exam (mainly math subject) for their high school students
(The teacher will be considered to offer a bit high salary)
Teaching hours: 22 classes per week / two days off per week
Age of students: 7-18
Accommodation: provided a furnished apartment
Paid Holiday: Two days off per week on Saturday and Sunday; All public holidays in China.
Work permit : The school will provide work permit for China
Air-ticket Reimbursement: On completion of the contract, the air-ticket reimbursement will be made.